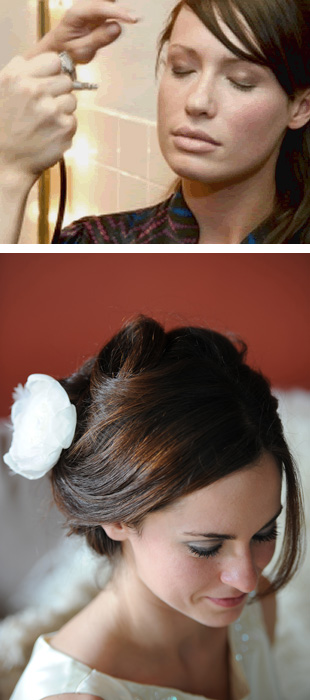 Airbrush makeup is the most flawless and long lasting makeup out there! Not only does it look and feel super natural, but it stays perfect through humidity, sweat, and tears! Scars, discolorations, under-eye circles and puffiness seem to disappear. The technique has taken hold in our industry and is now big business in Hollywood and New York. Airbrush makeup is being used on the Shows Friends, Will and Grace, CBS 48 Hours , and Jay Leno. Catherine Zeta Jones, Brad Pitt, Jennifer Lopez, former President Clinton and former Vice President Al Gore are also touting the excellent results achieved from airbrushed makeup! As more TV stations switch to HDTV their makeup departments will have to make the switch to airbrush makeup.
The airbrush sprays tiny dots or pixels of makeup at a low psi through a customized compressor. Going on, it feels like a soft whisper of air. It dries to a matte finish on contact with the skin and is water-resistant. The tiny pixels of foundation give the same effect as what the digital camera sees. A person's own skin tone comes through, giving a natural appearance. Airbrush make up will last the whole day. It creates a virtually flawless look, blends beautifully and feels like your not wearing makeup at all.
Photographers have asked our make-up artists many times how we had perfected the skin on their brides so well, because there was never any retouching they had to do. We always tell them, it's our secret!